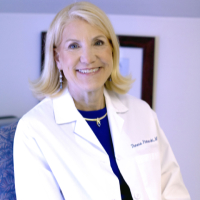 Theresa Piotrowski, MD – Medical Weight Loss Expert
Theresa Piotrowski, MD has more than 25 years treating weight-related issues in patients. Dr. Piotrowski, MD graduated from Georgetown University School of Medicine in Washington, DC. She completed her Residency in Family Medicine at Camp Pendleton Naval Hospital in Oceanside, CA and served on active duty as a Navy Physician for six years.
Dr. Piotrowski has successfully launched three medical weight loss centers in hospitals across the country and has been interviewed by ABC, quoted in several publications, and has presented in several national meetings. She has dedicated her career to the treatment of obesity and has followed patients from every corner of the world.
Theresa Piotrowski, MD is Board Certified in both Bariatric Medicine and Family Practice and is a Member of The American Society of Bariatric Physicians, The American Society of Metabolic and Bariatric Surgeons, The Obesity Society, and the Obesity Action Coalition.
Tiffany Rhodes MSN, ARPN, FNP-C​​ – Aesthetics Expert
Tiffany has been in medicine since 2006 working as a nurse. In 2014 she graduated with her Master's degree in Family medicine, and became recognized as a nurse practitioner through board certification by the American Association of Nurse Practitioners. She currently practices internal medicine, family medicine, and aesthetics. Helping build confidence and promoting wellness has brought her great joy to her career. She is certified in neurotoxin injection and fillers and hopes to continue to help others achieve their beauty goals. She resides in New Hampshire with her husband and two children.